Banners can be very useful for Minecraft interior design, and as a component in furniture design. The total possible combinations of Banner designs is literally in the Quadrillions; But you'll probably only need a few of those to spruce up your Minecraft builds…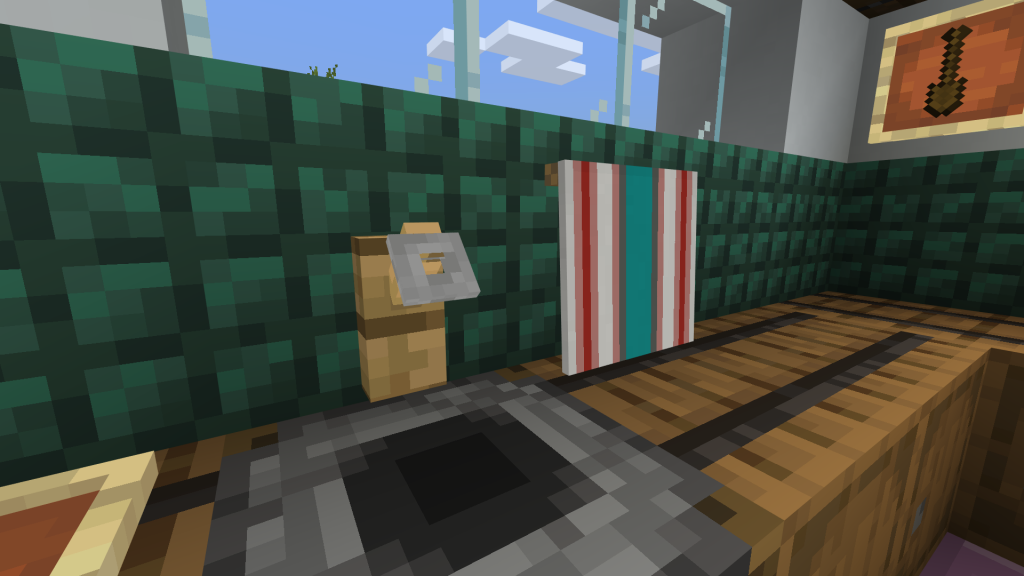 Patterns are best made in game using the Loom Block. You can read all about it on the Minecraft Wiki…
Start with a Loom: https://minecraft.gamepedia.com/Loom
Make Banners: https://minecraft.gamepedia.com/Banner
The best site for experimenting with Banner Designs is with the online Miners Need Cool Shoes Banner Maker: https://www.needcoolshoes.com/banner
Some Towel Designs:
Good for hanging in Bathrooms and Kitchens etc.
(Click on Banner to see recipe on NeedCoolShoes.com)
Some "Utility" Designs:
Click on the Banner below to go related Article, to see how they are used:
Decorative Banner Designs
Banner Designs can also be used for Art, or just to hung around a room to add some life and colour.
We recommend the YouTube Channels MindyTV or JohnRVF for HEAPS of great banner designs.
Here are some cool design we have found around the web…
(Click on Banner to see recipe on NeedCoolShoes.com)